Specifications
Package
Warranty
Trail Camera Features
Technical Specs
Innovative Cellular Transfer: The A390G trail cam takes a reliable 4G LTE cellular module and high-gain antenna, works with AT&T or T-Mobile cellular network (US only) for better coverage. The cam can directly send pictures to your mobile phone from field according to the schedule you programmed.
For Your Quick Start: Operates with a dedicated free App. A free sim card is included. No activation fee. Operates on 8 AA batteries (not included) and a standard-size SDHC/SDXC card up to 512GB (SD card is not included).

Easy-to-Use App Control: The App allows you quickly set up your camera and activate, check camera status, manage your field images. Valuable Add-ons - You can request HD images or videos on demand (order plan separately in the App).

Superior Night Vision: Features 940nm no glow infrared technology makes your camera more concealed, encompasses adaptive illumination technology to avoid overexposure or over-dimmed, delivers better night vision (up to 100ft).
More Excellent Features: Built-in 2.4" color display, fast 0.1 trigger speed and 0.5s recovery time, IP66 waterproof, compact housing design, intuitive operation.
 Blazevideo A390G 4G LTE Cellular Trail Camera (2022)
Works with AT&T and T-Mobile cellular (SIM card included, can only work in the US)
Easy to Use Phone App
Quick Activation and Program Your Camera by App
Offers Affordable and Flexible Data Plan
Sends Pictures to Cell Phone and Requests HD Photos or Videos
Captures Crystal Clear 32MP Still Image
Records 1296P or 1080P HD Video with Sound
No Glow Night Vision up to 100ft
This trail camera can ONLY be used with the SIM card that came with it, CANNOT be used with any other SIM.
Date plan of sending photos and videos:
 
Using instruction:

1. Setup and activation.

3. Download, save and delete the pictures.
* Important note:
Currently only available in the United States, please do not place orders if you are in other countries. We will design for more countries in the future.

Warm Tips:

1. Please format the memory card before use trail camera. We suggest SDHC card with class 10 or above for a better record and playback review.
2. Please remove the protective foil from the camera lens for not affecting the camera effect.
3. Please adjust a longer interval times if you do not want too many motion pictures.
Specifications:
(Note:Please adjust a longer interval times if you do not want too many motion pictures..)
Model type
A390G
Working Mode
Motion detection or Time Lapse
Max. Pixel Size
32MP
Optical Lens
F=1.6, FOV=70°, Auto IR-Cut
IR Flash
100ft(30m)
Keypad
7 Keys, 1 Power switch
Memory
SD, SDHC or SDXC standard-size memory card
(Not included), max capacity 512GB
Picture Resolution
32MP, 24MP, 16MP, 8MP, 4MP
Video Resolution
2304x1296@20fps  (16:9), 1920 x 1080@30fps  (16:9), 1080 x 720@30fps (16:9)
Record Format
Picture: JPEG,
Video: H.264 MP4 / MOV
Audio Record
Yes
PIR Sensitivity
High/Normal/Low
PIR Sensing Distance
 (Below 77°F/25°C)
75ft
PIR Sensing Angle
Total 120°(while side motion sensors enabled)
Central zone: 60°, Left side: 30°, Right side: 30°
Trigger Time
Approx. 0.1~0.6 second
(0.1s while side motion sensors enabled)
Trigger Interval
0sec.-60min, Programmable
Shooting Numbers
1~3
Video Length
3sec ~ 5min., Programmable
Info Strip
On /Off
Operation Hours
On /Off, Specific working period of time
Password
4-Digit Code
Camera Name
4-Character (A-Z, 0-9)
Time Lapse Interval
3 Seconds ~ 24 Hours
Power Supply
8x1.5V AA Batteries Or External 12V Power Supply with 5.5x2.1mm plug (Not included)
Stand-by Time
8 Months
Auto Stand-by
Auto Stand-by (Surveillance mode) in 3 minutes while no operation in the ON mode
Low Battery
8V - Low Battery (Batteries die)
9V - Night vision is unavailable in low voltage (Almost die)
Interface
Mini-USB,
Regular SD card holder,
External Power (DC 12V/1A, Plug 5.5x2.1mm)
Mounting
Strap, Tripod Base (1/4-20)
Waterproof
IP66
Operation Temperature
-4~140°F/-20~60°C
Operation Humidity
5% ~ 95%
Certificate
FCC & CE & RoHS
Product Dimensions
5.6 x 4.2 x 2.86 inch
Wi-Fi
/
Bluetooth
/
Cellular
LTE, ONLY works with AT&T and
T-Mobile
APP System Requirements
IOS 9.0 or later
Android 7.0 or later
For more details, please click to download the camera manual.
NOTE:
The power time depends on the quality of batteries. If you take or record many pictures/videos in a short time, the power will fall out quickly.
This trail camera can ONLY be used with the SIM card that came with it, CANNOT be used with any other SIM.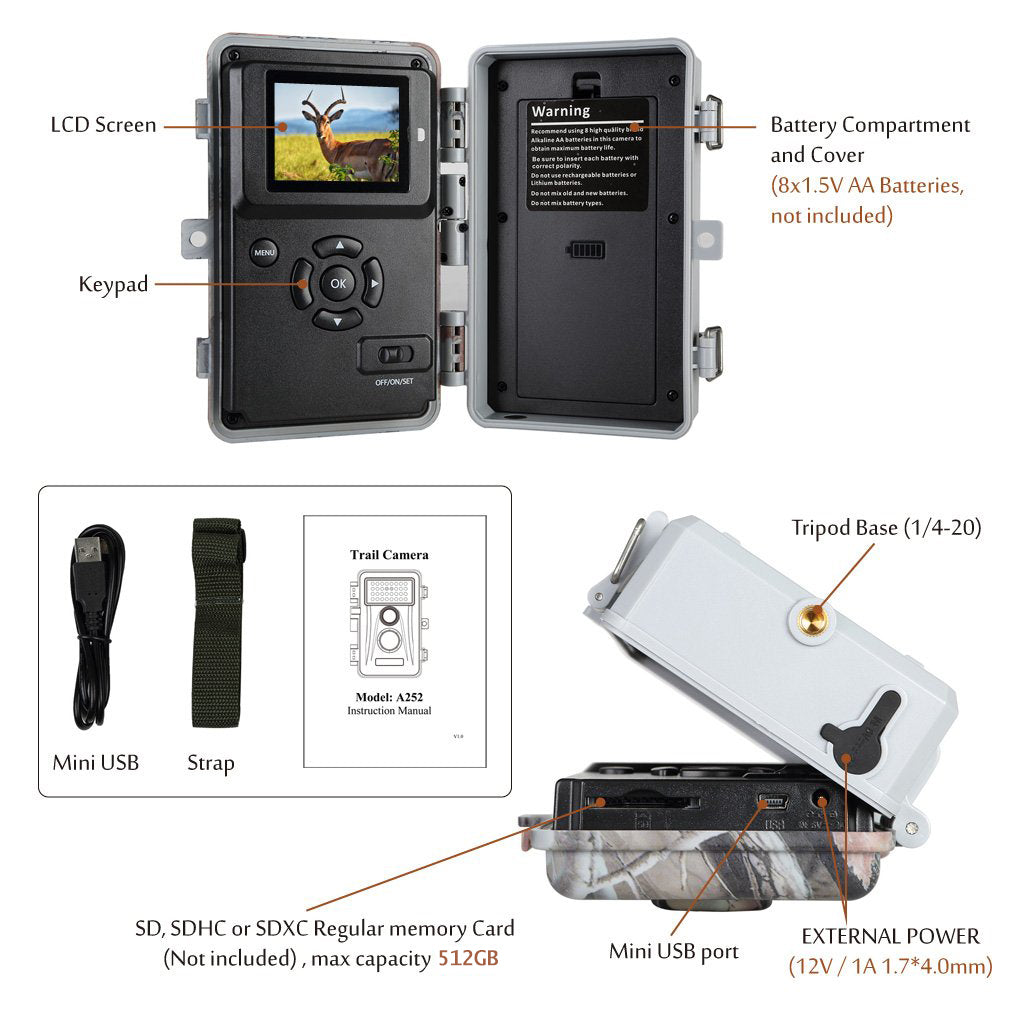 What's in the package?
You will find into our Blaze Video package, your: 4G LTE Cellular Game & Trail Camera 32MP 1296P 100ft Night Vision Motion Activated Waterproof with SIM Card Sends Picture to Cell Phone | A390G Green
It come with:
x1 Cellular Dark Green Trail Camera(s)
x1 User's Manual - in English
x1 Mini USB cable(s)
x1 Strap(s)
Not included:
More questions about our Camera, go to our Technical FAQs
---
When to use your Trail Cameras ?
Our Game Cameras can be used in many cases due to their highly flexible specifications: powered by battery, waterproof and best-in class camouflage. So feel free to use them everywhere and everytilme you need them.
One Year Warranty
We take great pride in our products. We always stand behind our promises. We provide a leading warranty term and service. Buying our product, you are covered under a limited warranty.
We guarantee our products to be free of defects in materials and workmanship for a limited warranty of the original purchase date. This warranty does not cover consumer caused damages such as misuse, abuse, improper handling or installation, or repairs attempted by someone other than our authorized technicians.
We will, at our option during the warranty period, repair your camera or replace it with the same or comparable model free of charge. This warranty only extends to the original retail buyer from our authorized dealer. Purchase receipt or other proof of the date of the original purchase is required to receive warranty benefits. The warranty on any replacement product provided under the original warranty shall be for the remaining portion of the warranty period applicable to the original product.
This warranty extends solely to failures due to defects in materials or workmanship under normal use. It does not cover normal wear of the product.
If you need to return a product under this warranty, please please feel free to contact us, we are always here to support you.