Specifications
Package
Warranty
  A great choice for your Blaze Video outdoor camera
  High transfer speeds of up to 80MB / s to record those moments
  Up to 64 GB to store tons of photos and even more Full HD videos
  Exceptional video recording performance with Class 10 speed class for Full HD (1080p) videos
  Memory storage capacity: 32GB / 64GB / 128GB

  Regarding the actual capacity: Due to the difference between the capacity calculation standards between the manufacturer and the equipment used, the actual capacity of any digital storage product is less than the nominal capacity, generally about 90% of the nominal, which is completely normal.
  Please refer to the actual capacity: 32G: 28-30G, 64G: 56-58G, 128G: 118-122G.

  How to fix SD card when it shows "Please Insert the SD Card" or "The inserted disk is unrecognizable by this computer"?
  Please refer to this file to fix it:   Fix SD card. 

  The format of most trail cameras uses is FAT32 format. If your SD card is 64GB or larger, it is likely be in the original format of exFAT or NTFS format, rather than FAT32. It is possible that the camera will not recognise it and you will need to format it to FAT32 in your computer first. Please refer to the document and format it to FAT32 format in your computer first. Once formatted, you will also need to reformat the SD card in the camera.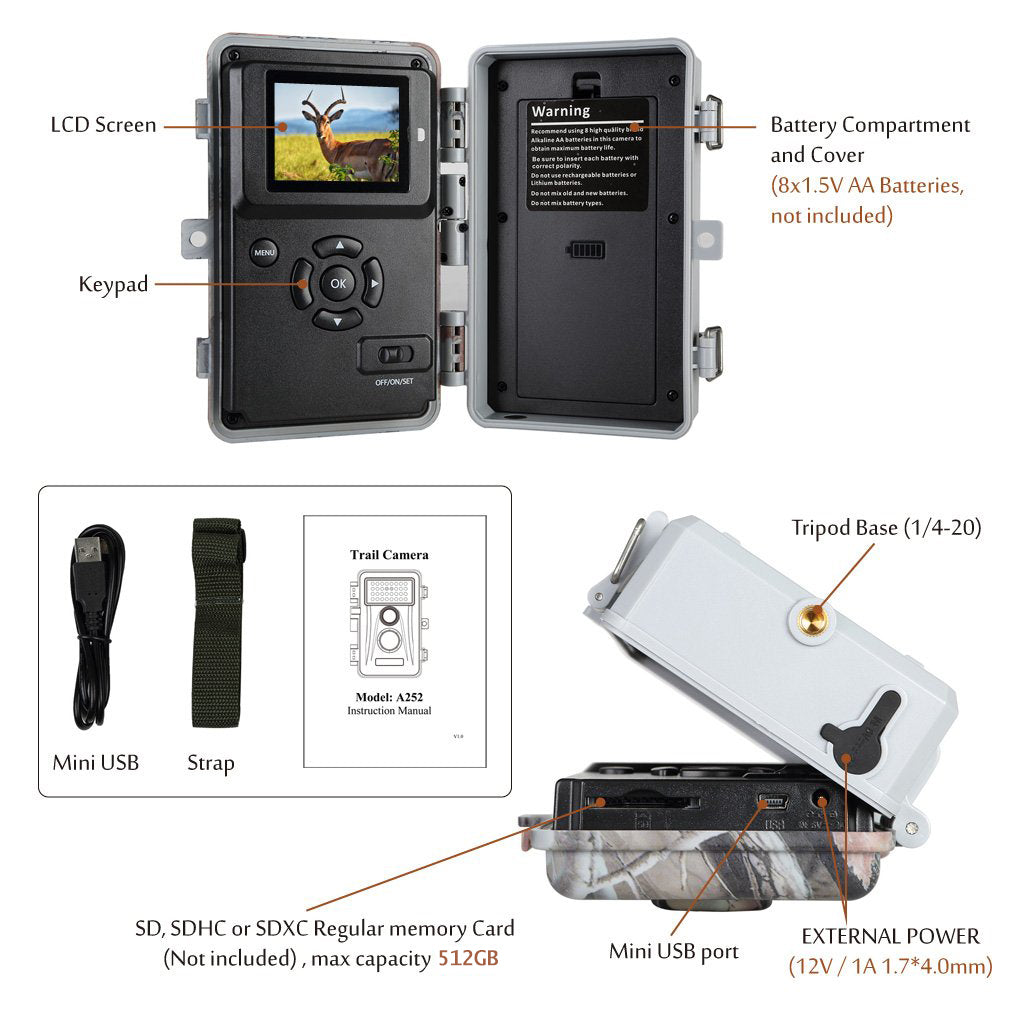 What's in the package?
You will find into our Blaze Video package, your: Game Trail Camera Ultra Class 10 SDXC Memory Card
It come with:
x1 SD Blue Trail Camera(s)
x1 User's Manual - in English
x1 Mini USB cable(s)
x1 Strap(s)
Not included:
More questions about our Camera, go to our Technical FAQs
---
When to use your Trail Cameras ?
Our Game Cameras can be used in many cases due to their highly flexible specifications: powered by battery, waterproof and best-in class camouflage. So feel free to use them everywhere and everytilme you need them.
One Year Warranty
We take great pride in our products. We always stand behind our promises. We provide a leading warranty term and service. Buying our product, you are covered under a limited warranty.
We guarantee our products to be free of defects in materials and workmanship for a limited warranty of the original purchase date. This warranty does not cover consumer caused damages such as misuse, abuse, improper handling or installation, or repairs attempted by someone other than our authorized technicians.
We will, at our option during the warranty period, repair your camera or replace it with the same or comparable model free of charge. This warranty only extends to the original retail buyer from our authorized dealer. Purchase receipt or other proof of the date of the original purchase is required to receive warranty benefits. The warranty on any replacement product provided under the original warranty shall be for the remaining portion of the warranty period applicable to the original product.
This warranty extends solely to failures due to defects in materials or workmanship under normal use. It does not cover normal wear of the product.
If you need to return a product under this warranty, please please feel free to contact us, we are always here to support you.