Specifications
Package
Warranty
Features

Technical specifications
This Portable Fish Finder FFC1108-1

is designed for fishing beginners. However, it is accurate enough for all levels of fishing lovers. This portable fish finder is an ideal fishing gear for ice fishing, kayak fishing, shore fishing and canoe fishing. It detects and displays water depth, approximate fish location, fish alarm, weeds and rocks on seabed. If you are choosing a fishing gadget to learn the depth of water and track fish location, it is the best value for the money. It is one of the best fishing gifts for men on Birthday, Father's Day, Christmas, New Year, Valentine's Day, Thanksgiving or Anniversary. Take it for camping, hiking, holiday or survival in the wild is also a good companion. 

 

    🐠✦ Fish Finder and Depth Finder : It is a portable fish finder that could display approximate fish location and water depth. The sonar transducer can be attached to the hull of kayak or boat in order to understand the changing of water depth when you are moving by. The water depth detection range is between 3ft(1m) and 328ft (100m) when the transducer is completely immersed in the water.


    🐠✦ Helpful Data Display : Besides fish depth and water depth, the handheld fish finder will also display short & tall weeds, sand & rocks on the bottom. Meanwhile, the measurement unit of the depth can be freely switched by feet or meter. The display is also visible in sunshine or darkness by turning on the back light.


    🐠✦ Handheld & Portable : The size of kayak fishfinder is designed for just one hand held. You will find a neck strap in the package which allows you to wear it around neck when you are busy on the kayak or boat. Meanwhile, 5 levels sensitivity adjustment makes fishing possible both in clear water or turbid.


    🐠✦ Fish & Fish Schools Alarm : Once the toss fish finder transducer into the water and turn on the display unit, you will get alarms when fish or fishing schools passing by. The portable fish finder can be working continuously for at least 4-5 hours with brand new battery. It can be working even longer by turning on battery save mode.


    🐠✦ Ideal for Fishing & Fishing Gift : It is easy to use LUCKY depth finder in boat fishing, ice fishing, shore fishing no matter in freshwater or in saltwater. If you are looking for a gift for your husband, father, friends or any anglers, then look no further, the LUCKY fish finder is now better than ever.


 
Fishing in an easier way!
Get to know the water depth and fish location is the key factor that allows you to fish in an easy way. But how does the portable fishfinder works?
The sonar transducer works in a 45 degree beam angle when immersed into the water which can detects up to 328FT water depth below the sonar sensor.

When fish and fish schools moving in the detecting area, the fish location will be displayed on the handheld fish finder. Calculate the accurate fish location by the right column on the screen.
Helpful Functions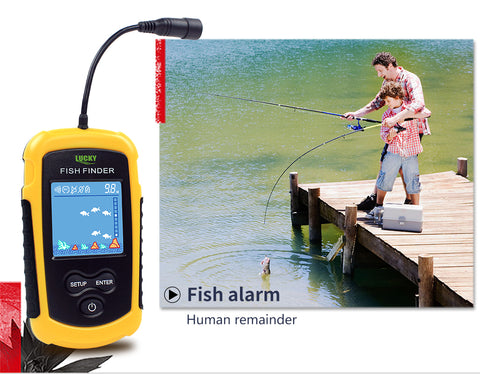 .
Fish Alarm
The sonar sensor reflects the signal to the fish finder handheld when it detects fish and fish schools. Then the device alerts you and no worry about missing big fish any more.


.

Battery Saving Mode

The fishing depth finder is powered by 4xAAA batteries, and you finally get rid of troubles of USB charging all the time. Turning on the battery saving mode, the fish finder handheld can be working continuously for more than 5 hours.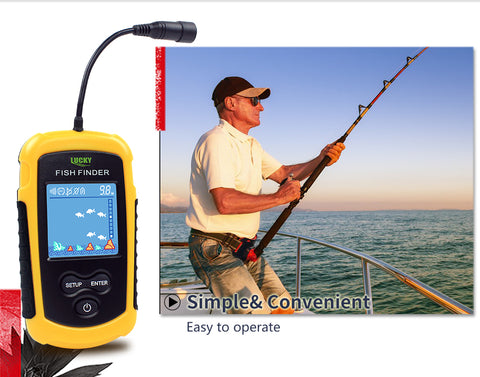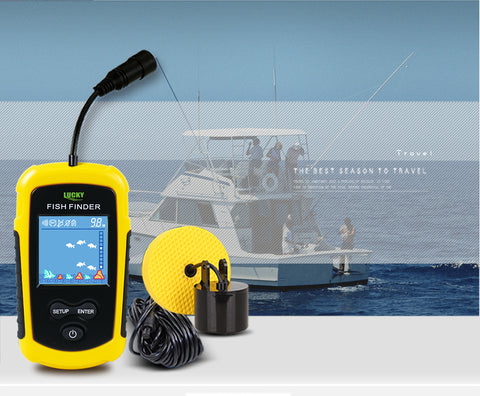 .

Back Light Mode

LCD display allows data readout even in the sunshine. Meanwhile, when fishing at night, blue back light mode allows data readout in darkness.

.

5 Levels Sensitivity

Sensitivity adjustment function helps getting accurate depth data no matter fishing in clear water or turbid. It also helps fishing transducer distinguish small fish and big fish by setting different sensitivity levels.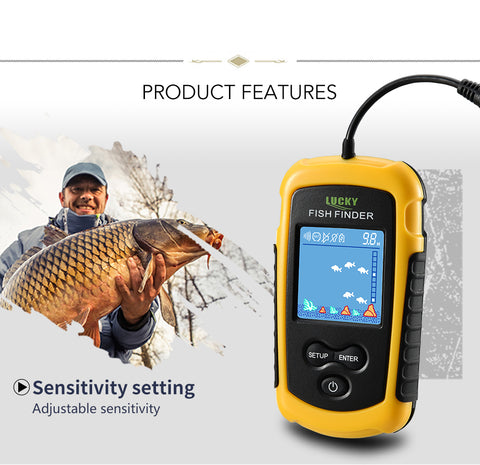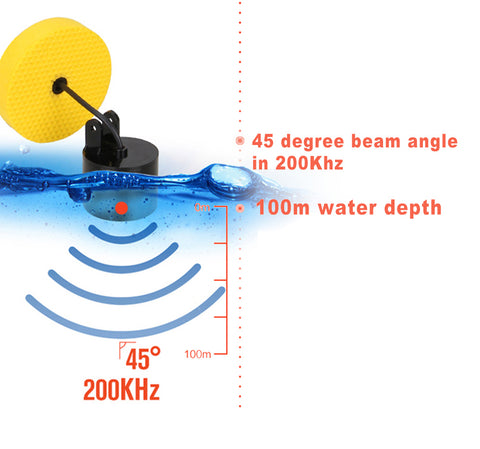 Huge detection range

100m water depth with 45 degree beam angle in 20Khz

The sonar senses at a 45 degree beam angle and has an effective range of 100m, so you won't miss a single corner.


Use LUCKY fish finder in a correct way.
1️ Switch Measurement Unit
Press "Enter" button for 5 seconds, then you can freely switch the measurement unit by ft/m.
2️ Correct Working Mode
There are two working mode for the kayak fish finder, normal mode and demo mode. Press the power bottom for 3 seconds, the fish finder will be in demo mode automatically. In order to get accurate detection data, please restart the device and get into normal mode instead.
3️ Try the fish finder in wide water area.
You can't use it in swimming pool because the transducer doesn't work in small space. The sonar technology is based on sound pulse. The transducer send a sound pulse signal and determines distance by measuring the time between the transmission of the sound pulse when the sound pulse is reflected off an object. If the water space is small, the time is too short to measure the data you concerned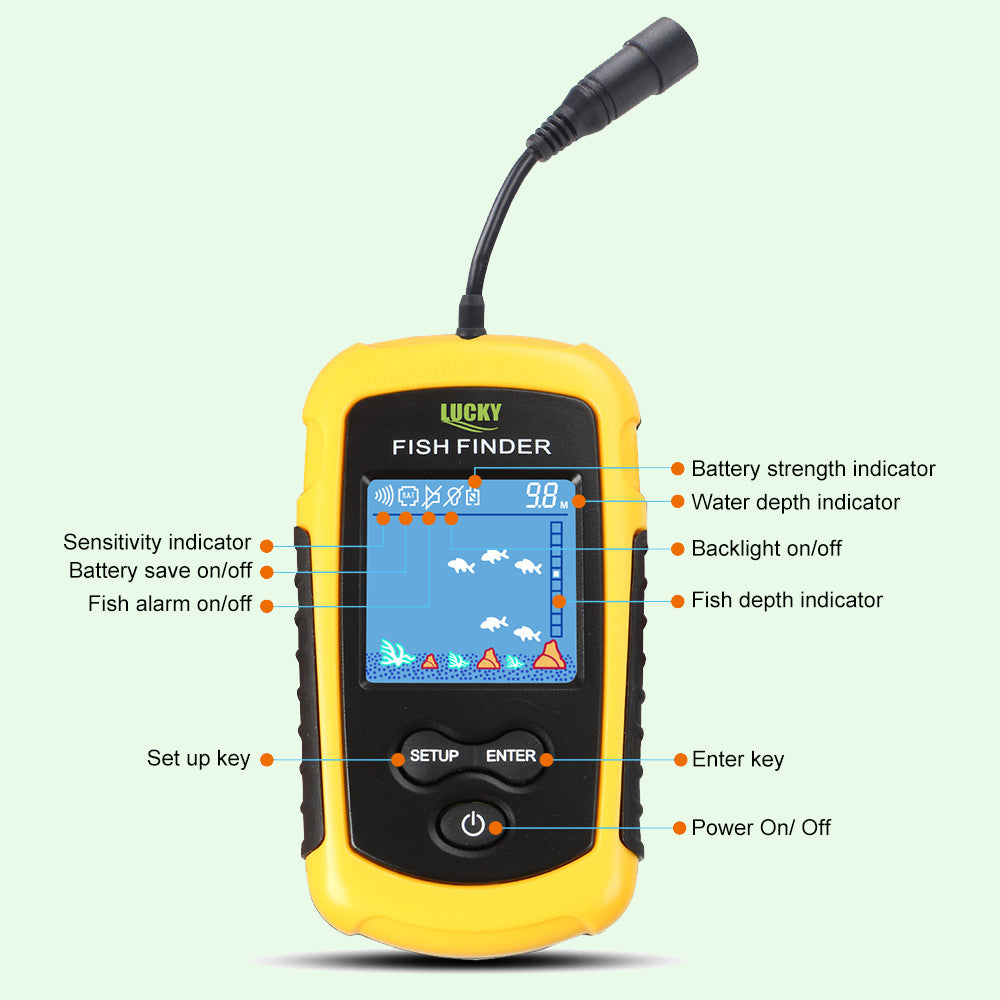 For Ice Fishing, Kayak Fishing, Boat Fishing and Shore Fishing
🐠✦ICE FISHING
Clear the snow on the ice layer. Make sure the surface is smooth enough. Put the fish finder portable directly on ice layer to detect fish distribution in purpose of selecting a place to drill a hole.

There should be no air between the sensor and the ice and no air between ice layer and the underwater either. Otherwise, the portable fish finder will not work properly.

Cut a hole through the ice and put the fishing sonar sensor directly in the water. Enjoy the fishing gear
🐠✦KAYAK FISHING
Attach the side-scan adapter to the boat hull using the mounting tabs.

Break though the hull of a boat. Place the fishing sonar sensor against the hull bottom 1 inch underwater.

The moving speed of kayak should be below 5mph.
🐠✦PIER / SHORE FISHING
Fixed the removable float on the transducer cable.

Cast the fishing transducer into water as far as you can.

You can cast the fishing sonar transducer either by your hand or by the fishing pole.
🐠✦BOAT FISHING
Portable fish finder is helpful in boat fishing which displays water and fish depth accurately. It is also a good fishing accessory for canoe, float tube, jet ski, kayak and so on.

Looking for a fishing gift? There is no better choice than this LUCKY fish finder.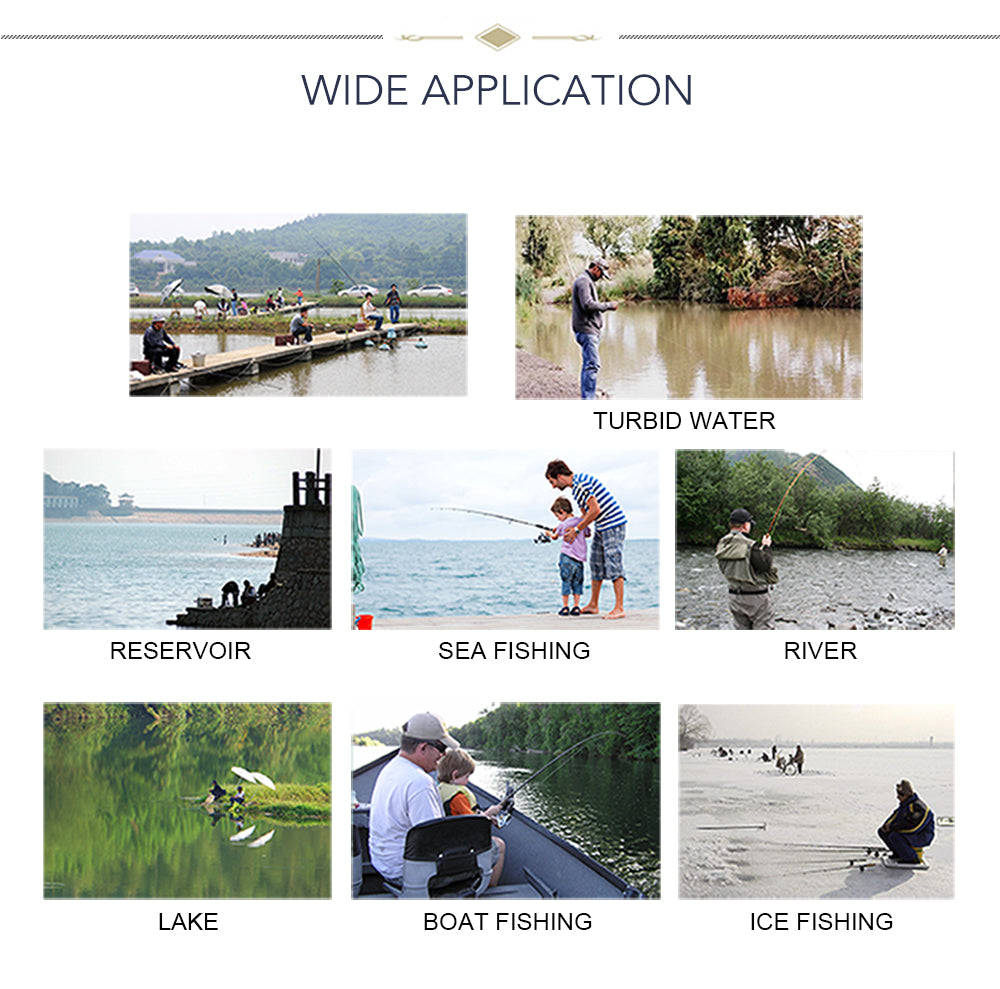 Specifications:
2inch TN/ANTI-UV LCD Display, Blue LED Back lighting

Depth Measurement Unit: FT/M

1.81inch diameter transducer sensor

Detect Depth Range: 3ft~328.08ft (0.6m~100m) under sensor.

Sensor coverage range: 45 degrees beam angle in 200Khz

Sensor Operating Temperature: 14°F to 122°F(-10°C-50°C)

Transducer Cable Length: 25ft (7.62m)

Powered by: 4 x AAA batteries (not included)
What's in the package?
You will find into our Blaze Video package, your: Portable Fish Finder Handheld Fish Finder Fish Location and Water Depth Sonar Sensor LCD Display for Lake/ice/kayak/shore/canoe fishing FFC1108-1
It come with:
x1 Cable transducer
x1 Transducer Adapter
x1 Stainless Bolt
x1 Stainless Wing Nut
x1 Neck Strap
Not included:
More questions about our Camera, go to our Technical FAQs
---
When to use your Trail Cameras ?
Our Game Cameras can be used in many cases due to their highly flexible specifications: powered by battery, waterproof and best-in class camouflage. So feel free to use them everywhere and everytilme you need them.
One Year Warranty
We take great pride in our products. We always stand behind our promises. We provide a leading warranty term and service. Buying our product, you are covered under a limited warranty.
We guarantee our products to be free of defects in materials and workmanship for a limited warranty of the original purchase date. This warranty does not cover consumer caused damages such as misuse, abuse, improper handling or installation, or repairs attempted by someone other than our authorized technicians.
We will, at our option during the warranty period, repair your camera or replace it with the same or comparable model free of charge. This warranty only extends to the original retail buyer from our authorized dealer. Purchase receipt or other proof of the date of the original purchase is required to receive warranty benefits. The warranty on any replacement product provided under the original warranty shall be for the remaining portion of the warranty period applicable to the original product.
This warranty extends solely to failures due to defects in materials or workmanship under normal use. It does not cover normal wear of the product.
If you need to return a product under this warranty, please please feel free to contact us, we are always here to support you.